What Size Tent Do You Need?
Some of the most common questions we receive are: What size tent do I need and how much space is required? Depending on the type of event, there are a few different options we can provide. Keep in mind, more formal events such as weddings, engagement parties, etc, may require more space under the tent to accommodate things such as dance floors, bars, and DJs. For such events, a larger tent may be needed and it is best to either fill out our contact form or call us to get a more personalized quote.  For all other events, please use this page to get an idea of what the seating arrangement will look like and the size of the tent you may require.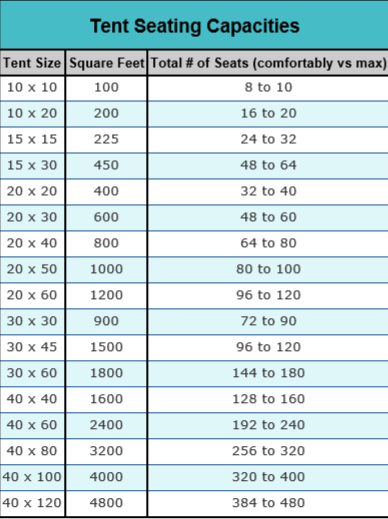 WHAT OUR CUSTOMERS SAY
I used these guys for a graduation party all the way out on the north fork. They showed up right on time, had everything set up with time to spare, and I couldn't find a better price anywhere (believe me, I tried). The guys setting it up were clean and professional, and they came back the next day and took it down in the rain- felt bad for that, and told them it could wait, but they insisted it was part of the job. All in all great experience with them, and I'll be using them for every event going forward!
Quick and reliable staff! The company made the renting process super simple and catered to all of my requests. Prices were great and so is the quality of the tents. I will definitely be using this company in the future for all of my events and I recommend everyone do the same!

10/10 experience!

Thank you again!
Chris, was contacted last minute for a large backyard bbq. He was able to accommodate us with a tent, chairs and tables. The price was reasonable and the service was friendly and top notch. I would recommend them.
Just left after setting up for my party, perfect! Great people to deal with, five stars only because can't give more!!!
I used Royal party tents for my backyard parry. They were very professional and the price was very reasonable. I would definitely use them again.
Book Your Wrapping Today!